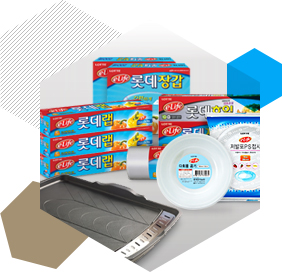 Lotte eLife will be customers' life companion and plan convenient and happy life.
Lotte eLife is LOTTE ALUMINIUM's House-hold Goods brand. Created by blending the slogan of 'Easy day, Easy life', Lotte eLife symbolically reflects the spirit that makes products to enrich the lives of the housemakers. In order to provide the consumers with convenient living culture, we are providing over 1,500 products including kitchenware, daily necessities, bath/cleaning supplies, and DIY supplies. We are making out way into becoming a professional House-hold Gods brand continuously pursuing something new to meet consumers' needs.
Kitchen Items
eLife kitchenware products are made of materials harmless to humans respecting both environment and humans.
Kitchen Utensils
eLife kitchenware products are eco-friendly and chemical-free with no endocrine disruptors.
Daily Necessities
eLife daily necessities are convenient and eco-friendly.
Bathroom/Cleaning Items
eLife bath/cleaningsupplies are easy to use and have effective and various uses.
DIY Products
eLife DIY supplies made of excellent materials can be used safely and conveniently.
Home appliances
Home appliances of e-Life is safety and convenient to use.